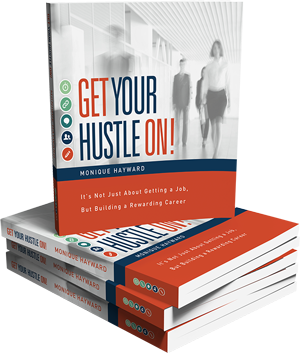 Get Your Hustle On!
It's Not Just About Getting a Job, But Building a Rewarding Career
The right smarts, skills, and experience in your field are great assets when you're looking for or just starting a job, but they are not enough. No one's going to hand you an opportunity and you shouldn't feel entitled to one. Today's young professionals and college students must master the "Five Cs" – competence, cachet, communication, connections, and coaches – to chart a course toward a flourishing career path.
What People Are Saying About Get Your Hustle On!
"Mastering the hustle is more than just hard work. It involves preparation and visibility with the right people. Monique knew I was a hard worker, but with her guidance, I became known for understanding my audiences intimately and always knowing their areas of expertise as well as them." – Cherizza Lundy
"To an entrepreneur, opportunities are endless, filled by a bounty of passion and creative energy. One key factor to focusing an entrepreneur is mentorship. Monique was instrumental in productively guiding my pursuits and was key to helping me get to where I am today." – Stephen Hodges
Click here to buy Get Your Hustle On! at Amazon.com >>
Divas Doing Business:
What the Guidebooks Don't Tell You About Being a Woman Entrepreneur
Divas Doing BusinessHer husband wants sex, the bank has denied her loan, creditors are after her house, her kid's big school play is tonight, and her top employee just resigned. One more straw and the camel's back surely will break. Divas Doing Business: What the Guidebooks Don't Tell You About Being a Woman Entrepreneur arms women business owners with the tools and firepower to tackle the unique situations that will test their resolve, strength, and spirit as they start and manage their businesses.
What People Are Saying About Divas Doing Business
"Throughout my career, I've worked with many women whose stories inspire me. Drive and ambition tend to attract me, and these women's dedication and commitment to their own success and that of others amaze me. My friend Monique Hayward stands out in these respects." –Morgan Freeman, Oscar-Winning Actor, Philanthropist, and Entrepreneur
"If you are a startup woman-owned business, you really ought to pick this book up. The stories and women that are featured will feed your entrepreneurial soul (especially since there are quite a few restaurant owners featured). If you're a male business owner, this book will give you an inside look into how women business owners live and what's important to them. Since women-owned businesses tend to fare better then men's — you might learn a few things about how to keep your business going in this economy." – Ivana Taylor, CEO of Third Force
"Divas Doing Business is a home run! I loved it! I am in the process of starting a consulting firm while I keep my day job. Your book delivered and brought it all together. The stories were inspiring. But even more, they illustrate what it really takes to keep going, keep reinventing yourself and the business and ultimately use both success and failure to learn, grow and thrive." – Susan Bender Phelps
"This book is a must read for any woman who is considering starting her own business. I wish I had this book as a guide when I started my own business years ago. It would have saved a lot of angst!" – Roberta Renard
Click here to buy Divas Doing Business at Amazon.com >>